What is the EB-5 Program?
The U.S. Immigrant Investor Program – known as "EB-5" – is one of the most efficient ways for people from around the world to obtain a green card and live in the United States of America. After the successful completion of the program, investors and their family members (spouse and children under the age of 21) are given a conditional resident status in the United States, which can be converted into a permanent residency with a path to citizenship.
How does it work?
The EB-5 Program is composed of two different pathways. The first pathway, known today as "EB-5 Direct", was created in 1990 through the Immigration Act of 1990 (IMMACT90), which is a permanent part of the Immigration and Nationality Act (INA). Because of how it was created, EB-5 Direct does not have an expiration date, and it does not require any congressional action to keep the program running.
In 1992, Congress created the Immigrant Investor Pilot Program to increase interest in the EB-5 visa program. This new pilot program established the second pathway, through EB-5 Regional Centers. Since its creation, the program has never been made permanent but has been reauthorized 32 times.
The Immigrant Investor Pilot Program has historically been reauthorized in one-year increments, as part of annual government budgetary resolutions. In 2021, Congress took the unusual step of decoupling the program extensions from appropriations legislation, which usually secured the program's reauthorization.
To date, an agreement on a permanent EB-5 Regional Center Program bill has not been made, and this second pathway program is currently suspended until Congress takes the necessary steps for reauthorization.
Current ("C") Vs. Unauthorized ("U")
JULY 2021 VISA BULLETIN FINAL ACTION DATES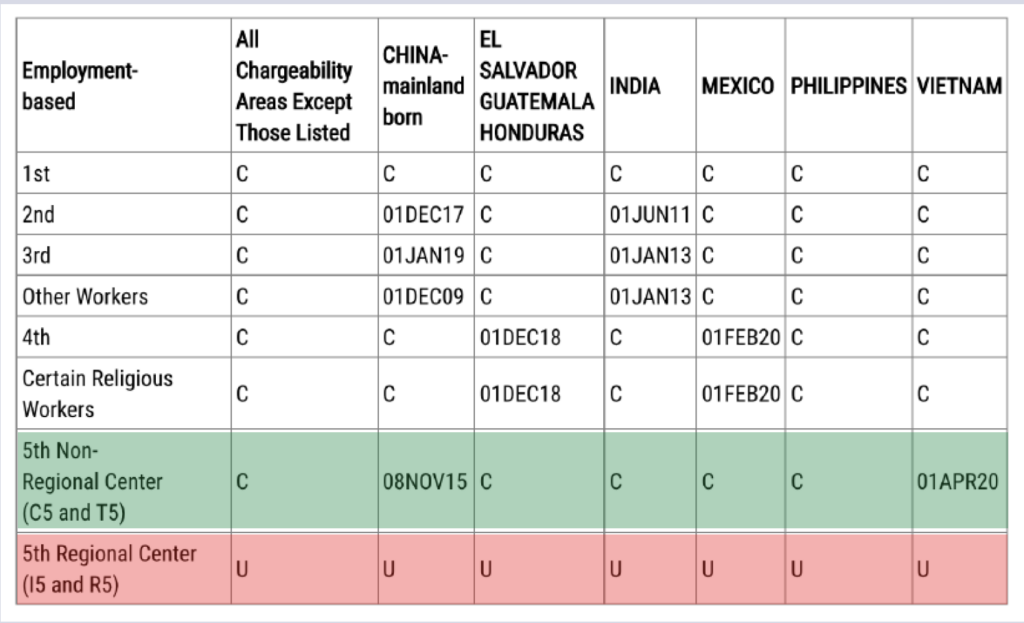 Investors in the 5th Regional Center category (red) face delays and uncertainty in receiving their green card when waiting for the program to reauthorize, whereas direct investors (Non-Regional Center; green) continue without interruption when visas are available.
---
What are the differences between Direct and Regional Center Investment?
Renovatio Realty is partnering with Christian Tyler Properties to bring you this opportunity to get permanent residency in the U.S.
Direct Investors can take advantage of CTP's real estate development experience, professional relationships, and track record of EB-5 success rather than undertaking EB-5 Direct on their own.
CTP carefully vets each potential project through its network of EB-5 due diligence professionals, such as UniSource Group, Saul Ewing Arnstein & Lehr, LLP, and others. As equity partners with CTP, direct investors benefit from these partnerships for the supply of everything from the development and review of EB-5 business plans, compliance and securities documents, economic impact analysis and job creation requirements, to operation and management services.
For more information on our partners, and projects, please download the brochures below
About EB-5 Direct Brochure
Current Project