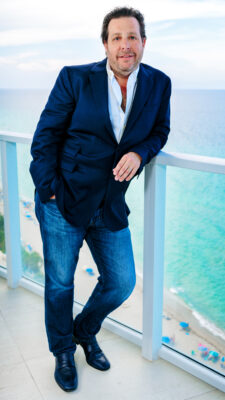 Abraham (Ramy) Copernik is the President of Renovatio Realty Group, a 12-year-boutique brokerage based in Aventura, Florida.
Ramy has over 25 years of experience in real estate, 17 of which in South Florida, where he moved from Brazil in 2003 after a very successful career in the automotive industry.
Earlier in his career, Ramy concentrated his work around the commercial real estate sector, finding investment properties and large-scale deals for his international clients.
Ramy's first substantial deal was on a piece of land in front of the Gulfstream in Hallandale, Florida, which he sold for $3.8 million back in 2005.
Since 2004 he has sold over $150 million in residential and commercial properties.
In the last three years alone, he has sold over 25 high-end pre-construction units and has helped and advised many of his clients interested in selling or buying new properties.
Ramy prides himself on being very knowledgeable of the South Florida market. Besides his extensive work in the commercial and residential areas, he took advantage of his vast contracting and developing experience to buy foreclosures, fix them up, and resale them for profit.
He has also worked with international clients, guiding them through the U.S Immigrant Investor Program, known as EB-5. The EB-5 program provides a particular category of an immigration visa to those who invest in businesses or projects in areas of high unemployment rates in the United States. The applicant's investment must create ten full-time jobs within two years.
Ramy believes each client deserves Renovatio Realty's absolute dedication, and he prides himself on providing personalized service to every client.
He is open to connecting on social media and is always available to chat and consult with friends, clients, and prospects about the real estate market in the region.
In his downtime spends his time with his wife and kids and his passion for cars.